Home
Schieten in Spijk
Er zijn 2 data gereserveerd in Spijk, zodat jullie gebruik kunnen maken van de 100 meter banen, de 50 meter banen en de 25 meter pistoolbanen.
dinsdag 5 oktober
dinsdag 2 november
Het bestuur
---
Mededelingen vanuit het bestuur
De banen zijn al weer een tijdje normaal ingebruik. Dit houdt in dat je kan komen schieten zoals voor de coronamaatregelen. Ook de politie zal, als het gaat om het maken van voldoende schietbeurten, hier weer op gaan letten.
Binnen het bestuur is het volgende gaande. Henriëtte stopt als penningmeester en Frank gaat haar opvolgen. Anne heeft als voorzitter zijn termijn erop zitten en hij wil nog een termijn doen. Omdat we geen ALV hebben gehad, kunnen deze aanstellingen volgend jaar in de ALV officieel worden bekrachtigd. Tot die tijd zijn ze ad interim bestuursleden.
Frank heeft zijn functie bij de bezwarencommissie neergelegd. Bij deze de vraag aan alle leden of iemand in de bezwarencommissie wil? De commissie bestaat uit twee personen.
Vanaf 25 september kunnen we weer introducés ontvangen en ook beginnende schutters met begeleiding. Graag met de secretaris overleggen want inmiddels hebben we een wachtlijst en is enige planning met begeleiding nodig.
Dringend verzoek aan alle leden: wie is bereid om als wedstrijdcommissie lid deel te nemen? Twee jaar geleden hebben we voor het laatst een eindejaarswedstrijd gehad. Er waren veel enthousiaste reacties. Het zou mooi zijn om weer zo'n goed opgezette wedstrijd te hebben. Wie heeft interesse?
We proberen nog te regelen met Spijk, om daar te kunnen schieten. Nader bericht volgt.
Het bestuur
---
Inloggen op de website
Door de geautomatiseerde inlog pogingen op de website is de beveiliging uitgebreid. Aan het login- en 'Lost Password' venster is captcha toegevoegd. Nadat je de username en wachtwoord hebt ingetypt, moet je als extra de uitkomst van een rekensom intypen.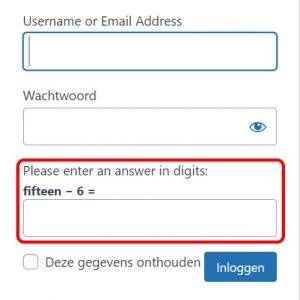 Mocht je de rekensom vergeten of een fout in de berekening maken dan krijgt je een melding "ERROR: Invalid login credentials". Vul de username, wachtwoord en de uitkomst van de som dan opnieuw in.
De beheerder
---
Eerder gepubliceerde berichten: