Home
Coronamaatregelen (18-12-2021)
Helaas is door de nieuwe coronamaatregelen, de schietbaan voorlopig gesloten. Dit zal zonder nader bericht tot 14 januari 2022 duren.
Hiermee komt alles te vervallen, als het gaat om afspraken en andere activiteiten rondom onze vereniging.
Wie geïnteresseerd is in het aanvragen van een Emmer pas, wil dit dan aan de secretaris doorgeven? Dan verzamelen we de aanvragen, zodat aanvraag in één keer kan.
Mocht je je lidmaatschap willen stoppen per 1 januari 2022, vergeet dit niet tijdig te doen. Uiterlijk tot en met vrijdag 24 dec as.
We wensen jullie allen goede, gezellige feestdagen en een mooie jaarwisseling.
Het bestuur
---
Verhoging munitie prijzen
Helaas is het onvermijdelijk om de prijzen aan te passen. We hebben onder andere te maken met het opraken van de corrosieve patronen van de AK. Het voordeel van de nieuwe munitie is dat deze niet corrosief is.
Per 1 december worden de nieuwe prijzen ingevoerd en dan zal ook op de schietbaan de oude prijslijst worden vervangen. Tevens wordt vanaf 1 december de munitie alleen per 25 of 50 stuks verkocht.
Het bestuur
---
Mededelingen vanuit het bestuur
Graag vragen we jullie aandacht, in deze mail kort en duidelijk uitgelegd, over de uitwerking van de coronamaatregelen.
In ons geval zijn we een binnensportvereniging. Ons onderkomen is café de Halte. Beiden moeten om de coronapas danwel de QR vragen. Daarmee toont iemand aan dat hij of zij is gevaccineerd of getest met een negatieve uitslag.
Deze verplichting is er eenmaal en de meeste leden kennen dit al van de Halte. Wij als vereniging controleren niet nog een keer.
Iedereen die komt schieten, gaat in eerste instantie naar het café en kan zich dan inschrijven middels de presentielijst. De medewerkers van de Halte hebben dan de controle gedaan, waarna je naar de schietbanen kan.
De Halte verzoekt nadrukkelijk om bij klachten niet te komen!
Het bestuur
---
Inloggen op de website
Door de geautomatiseerde inlog pogingen op de website is de beveiliging uitgebreid. Aan het login- en 'Lost Password' venster is captcha toegevoegd. Nadat je de username en wachtwoord hebt ingetypt, moet je als extra de uitkomst van een rekensom intypen.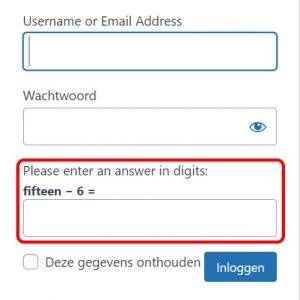 Mocht je de rekensom vergeten of een fout in de berekening maken dan krijgt je een melding "ERROR: Invalid login credentials". Vul de username, wachtwoord en de uitkomst van de som dan opnieuw in.
De beheerder
---
Eerder gepubliceerde berichten: